Winter Can Stop the Pranks
Could it be that winter didn't get the memo that it's time has come and gone? The answer is, apparently not.
Even as Mainers flipped their calendars from the month of March to April, the movement further into spring did little to prevent the all but vanquished touch of winter from reaching back one more time.
On April 1, 2011, a feisty storm, packing a northeast swing, hammered the Maine coast with heavy wet snow and gusty winds. A blanket of snow accumulated rapidly in the early morning hours, and before long, tree limbs and branches were laden with a ponderous burden and the landscape was transformed from brown hues to white.
Given the penchant for pranks and tricks to occur on April Fools' Day, many were hoping this storm would end up being be more of a joke, but alas, Jack Frost was the one who had the last laugh as Maine's coastal regions were buried under snowfall amounts ranging from six to twelve inches.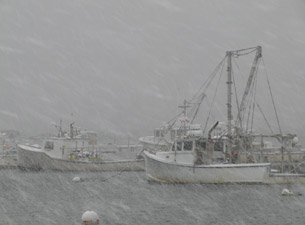 Since the timing of the storm along the Midcoast was to peak before noon, I decided to venture out shortly after dawn to avoid most of the challenges of driving around on slippery roads. My destination of choice was the Owls Head area because it did not require me to make a long drive and it happens to also be on my way to work.
Arriving at Owls Head Harbor, I found the memory of winter past ushered to the forefront of my thoughts as quickly as the storm's gale force winds were driving snow straight across my line of vision.
Normally I would have been ecstatic over such wintertime forays gripping the coast, but today's 'snow globe' effect, as it enveloped the pines, wharves and lobster boats, seemed incapable of inspiring the same wonderment.
For it is now time for spring to pour out its vibrant promise of renewal and set the landscape into full blossom. The idea of snow still loafing about has no place in this alluring hope.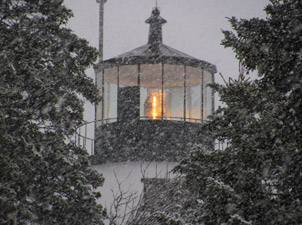 Thankfully, with temperatures forecasted to reach the mid-40s over the next few days, the snowpack's stay will be a short one.
As I shoveled my driveway, for what I hope is the last time this season, I was abruptly stopped by the sound of birds chirping away in the trees. This is a serenade one would not hear during the frozen depths of winter. I was thrilled!
Even the birds seemed to be content to ride out this last desperate act of winter – for as the calendar can vouch for – spring is indeed here to stay!
Just in case, I think I'll resist the idea of putting the shovels away for now. 🙂