Storm Warning Inspires a Look Back at the Patriots Day Gale Four Years Ago
The National Weather Service has issued a storm warning along the Maine coast for April 16, 2011 (and into the 17th) as a strong southeast flow bears down on the area late Saturday evening. The low pressure system is forecasted to pack a bit of a punch with gale force winds gusting upwards to 60-knots and seas reaching as high as 12 feet on the Penobscot and Casco bays.
Along with the buffeting winds and rough seas, a good dose of rain is also predicted to accompany this weather event. Under normal circumstances I would have passed over such a forecast as nothing more than a "little blow" that Mainers are all too familiar with at this time of year, but then I realized something significant about the date.
It was four years ago to the day when the unforgettable fury of what has been dubbed the "Patriots Day Gale" was unleashed upon the Maine coast on April 16, 2007.
Today's storm will not approach the power and drama of the Patriots Day Gale, but the fact that it has come-a-calling on the same 16th of April inspired me to take a look back at a tempest that many have categorized as a once-in-a-quarter century occurrence.
It required little effort for me to recall this now famous storm, for its memory remains profoundly etched in my mind. I remember how much of New England was working feverishly to batten down the hatches and preparing to ride out this terrific gale the day before it arrived – and with good reason.
At the time, the National Weather Service issued an ominous storm warning that resonated throughout coastal communities, stating, "High astronomical tides will combine with large, powerful waves to produce significant coastal flooding." The forecast also called for "copious" amounts of rain, while citing, "Beach erosion will be significant as pounding waves hit the shoreline for several tide cycles."
In regards to the winds and seas, the outlook was equally serious as the forecast called for "Sustained east winds 40 to 55 knots with gusts up to 70 knots" and "seas 18 to 25 feet."
The looming menace began hammering the Maine coast in earnest during the early morning hours of April 16th, but the worst was yet to come.
Daybreak may have cast a light on the conditions that night had previously concealed from sight, but this was hardly a consolation to concerned coastal communities and maritime interests. As it was, dawn only served to reveal an array of the havoc being wreaked by the intensifying gale.
Monday the 16th's high tide, which occurred around 11:00 am, was pushed ashore with an alarming rush of power as the gale blew great guns and inundated many coastal areas with a far-reaching surge.
Such unabated fury caused widespread power outages, innumerable downed trees, undermined roads and bridges, peeled-back roofs and washed large amounts of debris upon the shoreline.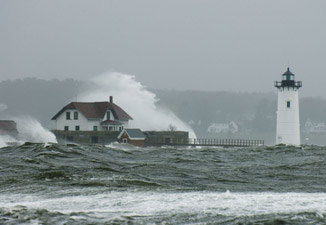 Like all powerful storms of this magnitude, I remember hearing the incessant howl of the wind, which sounded like a nonstop train for hours on end. At other times I recall honing in on the sight of tall trees swaying under great duress in the face of the storm's relentless breath and hearing them creak to a near breaking point.
Then there were the harrowing wind gusts that managed to thrust themselves – and sheets of driving rain with it, against buildings, vehicles and trees with such force that one had little choice but to respect the power of this gale to the fullest.
But the most unforgettable sight for me was witnessing the awesome power of the Patriots Day Gale up close and personal (but from a safe distance) at the Rockland Breakwater. The scene produced a volume of water that I had not previously seen on West Penobscot Bay and inside the breakwater's harbor of refuge.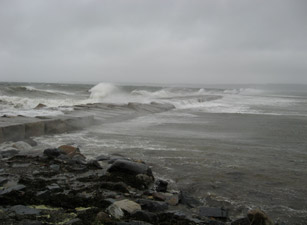 It was quite a challenge to stand up straight near water's edge, but witnessing the sheer turbulence that was raging in the air and upon the sea was simply amazing. Mammoth swells rolled in on the breakwater one after another in thunderous fashion. Each set slammed hard against the massive granite wall before exploding into a furious white froth that somehow excited and alarmed my senses all at once.
On the morning of April 17, 2007, Maine's Courier Gazette web site reported that "Strong winds, astronomically high tides and torrential rains combined Monday to produce one of the fiercest storms in the past quarter century." The newspaper went on to note that damage from Hurricane Gloria (9/27/85) and Hurricane Bob (8/19/91) was less extensive than the havoc being caused by the 2007 Patriots Day Gale.
The low pressure system that looms over Maine waters on April 16, 2011 will eventually pass without much fanfare, as it should, but its presence on this specific day is a reminder that every once in a while, a humdinger of a blow may be lurking just around the corner.
Stay dry!
The National Weather Service or U.S. Coast Guard reported the following wind gusts in the wake of the Patriots Day Gale on April 16, 2007…
81 mph at Cape Elizabeth, Maine…72 mph at Cutler Harbor, Maine…65 mph at Rockland Breakwater, Maine and 57 mph in Portland, Maine. In addition, there were reports of sustained winds of 60 mph out on the Isles of Shoals at White Island Lighthouse, New Hampshire.
 Quotes about the 2007 Patriots Day Gale after it occurred…
 "Waves were clearing up and over the lighthouse on White Island (Isles of Shoals, New Hampshire). It was wild, and the after-effects are still happening. On Star Island, most of our damage was done by big rocks and other debris being tossed all over the island. Things are strewn all over, a great distance from the usual water line." – Sumar Maji, Star Island facilities manager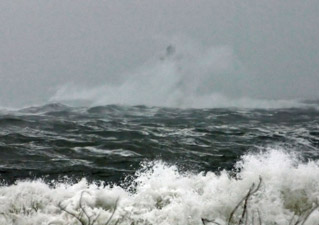 "I was able to observe the high seas and winds smashing into Portsmouth Harbor Lighthouse (NH) and Whaleback Lighthouse (ME) during this memorable storm, one of the worst spring storms in my memory. At the crest of high tide on Monday, I watched breakers crash right over the top of Whaleback Lighthouse, which is 50 feet tall. At times like this, I find myself thinking often of the days when keepers lived inside wave-swept towers like Whaleback. It must have been terrifying to have waves breaking overhead, probably sounding like thunder and causing the tower to shudder. – Jeremy D'Entremont, New England lighthouse author & historian
"I found that I stopped taking photos a few times just to observe the chaos of the sea. You could watch a wave crash near the lighthouse, and then another one right after at a different spot, and this continued throughout the storm. The crashing waves would toss around debris and large rocks with frightening ease. It even demolished a footbridge in a matter of seconds, right before my eyes. The power of the ocean is often underestimated and it helps me further appreciate the efforts of the Coast Guard, and even further, the past courageous people that made up the U.S. Lighthouse and U.S. Life-Saving services." – Ross Tracy, Friends of Portsmouth Harbor Lighthouses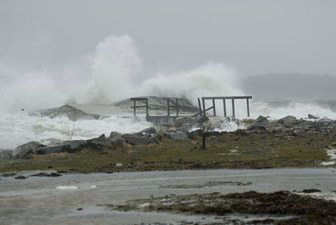 "The extent of coastal damage was being compared to destructive nor'easters in 1987 and 1991. Nor'easters blow directly at the Maine coast, scouring the shore and pounding seawalls and bluffs with great force. This week's nor'easter packed especially strong winds and coincided with tides that were already elevated by 2 feet or more." – Portland Press Herald
 "The position of the storm, the size of the storm and the wind, all together, really pushed a lot of water against the inner harbor (Portland) and created a situation we haven't seen in many years." – Fred LaMontagne, Portland Fire Chief
"It's a major disaster and in some places of catastrophic proportions." – Tim Pellerin, Maine's Lincoln County emergency management director