Moments in Maine publishes Rockland Breakwater: A Journey Through the Seasons
From the sight of majestic windjammers and marine life to winter storms and ice, Rockland Breakwater fascinates everyone who has ever ventured to this special place along the coast of Maine. In his new book Rockland Breakwater: A Journey Through the Seasons, Bob Trapani, Jr. captures the very essence of the Rockland Breakwater through all four seasons.
Trapani shares his thoughts about the Rockland Breakwater – sentiments that were inspired by being immersed in the intriguing facets connected to this timeless granite structure for over ten years. The book is an adventure and a journey – one that was accomplished through the collection of many fleeting moments that rode the tides of time by the Rockland Breakwater.
"There is no other place in Maine quite like it," says Bob Trapani, Jr. "A trek along the breakwater enables a person to go to sea without ever leaving land. This alluring story of wonderment and beauty is best conveyed when it speaks directly to the heart rather than the mind – one visit and one moment at a time that requires many a return trip to fully appreciate."
The 108 color photographs contained within Rockland Breakwater: A Journey Through the Seasons were carefully selected by the author and reveal relationships between individual images and the heartbeat of a working harbor, weather and the elusive sense of tranquility we all cherish.
Bob Trapani, Jr. is a writer and visual storyteller. Believing the wonderment of the Maine coast stirs our emotions, Bob endeavors to use his photography to tell a story and inspire a more profound appreciation for its many layers of underlying beauty. He also enjoys sharing how everyday coastal moments are the backbone for Maine's amazing sense of place that we all cherish. Bob has authored a number of books, hundreds of articles and his photography has appeared in many magazines, specialty publications as well as books by other authors.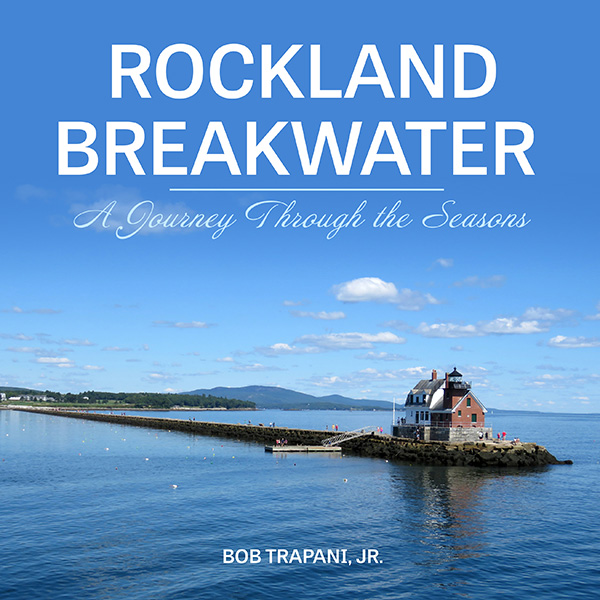 Rockland Breakwater: A Journey Through the Seasons
$29.95