Listening Closely for the Whispers of Spring
Winter is certainly not over by any stretch of the imagination, but it does appear that the cold may be losing its icy grip. The stubborn snowpack that has accumulated over the last month or so is suddenly in full retreat as the warming power of the sun pushes the temperatures in a delightful upward fashion.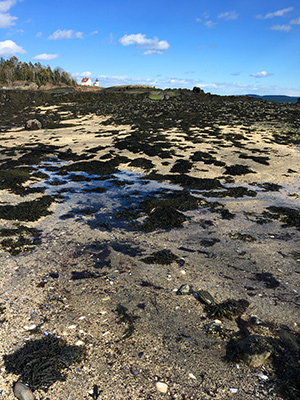 During a walk today, I noticed flows of water on roads and sidewalks – once frozen in time but now set free, running unabated for points unknown. Small streams babbled with a revitalized energy as waters raced by and occasionally leapt over rock-strewn beds. Of course, there was plenty of saturated mud to sidestep, yet this expected nuisance did not bog down a moment where it was evident that the air might finally be losing its sting.
Along the way, I stopped by the Curtis Island Overlook in Camden and climbed down the granite embankment to a beach revealed by the ebb tide of which was now well into giving ground.
A northwest wind was sweeping over the exposed stretch of rockweed, sand and ledge at a clip of 25-knots, with gusts to 35-knots – strong enough to cause me to lose momentary balance atop rocks smeared with slippery sea growth a couple of times.
But try as it might, the wind could not chase me away with its threats of blustery chill, for it simply did not have the bite it possessed just a bit ago.
Yes, the waters of Penobscot Bay were dancing to a frenzied white-capped rhythm, the contents of tide pools were made indiscernible by the stir of the zephyr and the keeper's house on Curtis Island – boarded up for the winter season, was still in obvious hibernation, yet my spirits still took flight upon the shoulders of the drafts.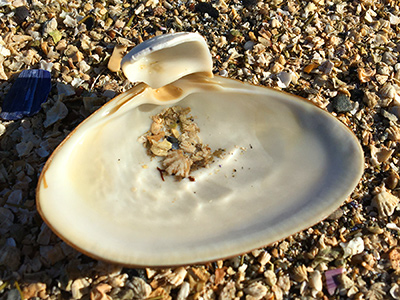 As I lingered and listened intently over the incessant howl, I was all but certain that I could hear the whispers of spring to come. Maybe it was just an anticipating heart, or the big puffy white clouds racing along an alluring blue sky expanse – or quite possibly the ever-rising sun's radiant warmth that easily inspires thoughts of cheer, but it matters little the reason.
Spring's promise of renewal and vitality brought a smile to my face in that moment, and though I needed to move on from this contemplating place, I tucked that promise away in my heart knowing the day will come when it is made good.