Where have you been my Frosty Friend?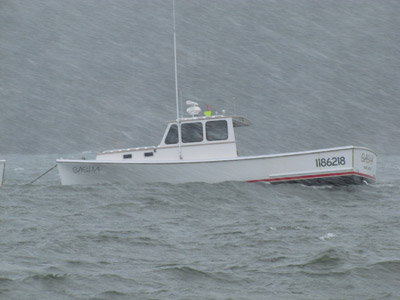 The calendar was moving towards mid-January and still winter had not blown great guns during a season it usually holds tight in a grip of frozen mire.
Missing was the shriek of the bitter northeast gale, and the fitful snows that ride fast and furious on its shoulders. Absent too were thick blankets of ice that banish the free-flowing waters of rivers and harbors from sight.
In the back of my snow-starved mind, I even questioned whether "Old Man Winter's" frosty countenance might simply pass us by. Was it possible? The thought was unthinkable.
For though we can grow weary of winter's long, hard stay by March, there is still a strange fondness for a season that imposes its will upon us in such an influential manner. A coastal Maine winter simply isn't – well winter, without healthy doses of Arctic air, gales to spare and of course, snow. Some years, lots of the white stuff too!
But alas, winter lives!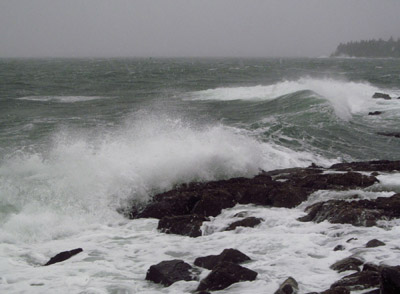 By no means did this force of the north knock in the doors during its most impressive showing to date on January 12, 2012, but "Old Man Winter," and his pal "Jack Frost," did deliver a solid punch over a period of four days that reminded many that Maine's cold-blue season still has plenty of bite.
The above average temperatures squatting on winter's turf up until now were finally sent packing by a northeast gale born of brisk air. The storm on the twelfth stirred the seas and filled the skies with dashes of white, dropping a total of two to five inches of snow along the coast before it moved out to sea.
Admittedly the snow totals were modest, but the fact that we actually received a measurable snowfall this winter season was reason enough to celebrate – at least for those who like snow or who earn their living when it piles up.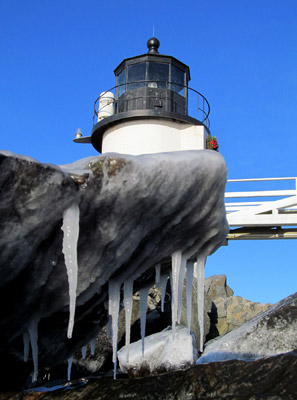 On the heels of the gale came the next chilling encounter as Arctic air swept down from Canada. The icy grip of "Jack Frost" took a firm hold of the Maine coast on January 15 and 16, sending the mercury plummeting to near zero and wind chills even lower into the minus teens.
The results were starkly bone-chilling.
The blast of cold air became more daunting to cope with thanks to northwest winds that blew without feeling – or at least a comfortable feeling that is. The sting of these gusty drafts was unforgiving on any and all exposed skin, to the point where even the hardiest of resolves was tested in the face of this relentless force.
For those who go down to the sea, there simply was no place to hide. Air temperatures in the single digits and water temps around forty degrees teamed up to ensure that the mystery of Arctic sea smoke would burn cold for two days.
But what a show it was!
The restless vapor may be in a constant state of dissipation when it manifests itself on the water, yet for brief moments, its movements are as uncontainable as they are riveting. Doused in morning sunlight, the vapor becomes soaked in pinks, oranges and yellows, all of which lends a hand to the sea assuming an unearthly appearance – even fire-like.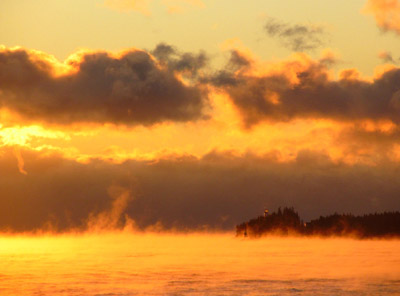 Such a scene would inspire the imagination to further contemplate the fascinating choreography of this Arctic-borne vapor, if not for the bitterness that envelops the air. Instead, a front row seat by the sea is one that cannot be occupied for long without enduring ever-rising levels of discomfort. The same air that gives life to the sea smoke also wages a war of attrition on one's ability and determination to ward off its effects.
Still, I for one would have it no other way.
Every ounce of discomfort is well worth the opportunity to admire winter's dramatic beauty – and to ponder its bitter but regal personality. At least for a couple of months more, may the northeast gale blow strong and the fingers of ice encase both river and ledge – and of course, let it snow, let it snow!
So my frosty friend – better late than never!