Storm's Fury
With just two days left before Christmas, Maine joined many other places experiencing a major storm system, bringing the coast high surf and strong winds. A dry slot in the storm brought a brief end to the rain, which was perfectly timed near high tide. I took the opportunity to head down to Rockland and see how the big seas were interacting with the breakwater. The tide was set to crest around 12 feet, and with the added storm surge of 2 feet and waves of 8-11 feet, it seemed promising to capture some awesome images. 
When I arrived it was evident that keeping my camera and telephoto lens steady was going to be quite the task. —for as I exited the car and headed down the path I was buffeted by wind gusts of around 50mph. Undeterred, I quickly set up my camera and went to work on capturing some images. The sea was very agitated, and the breakwater was basically invisible beneath the inundating waters of Penobscot Bay. I was most amazed however by the large waves that were battering the lighthouse at the end of the breakwater. The lighthouse was being pounded by waves halfway up the structure, with some waves crashing as high as the top of the building as they were driven forth by the strong southeasterly wind.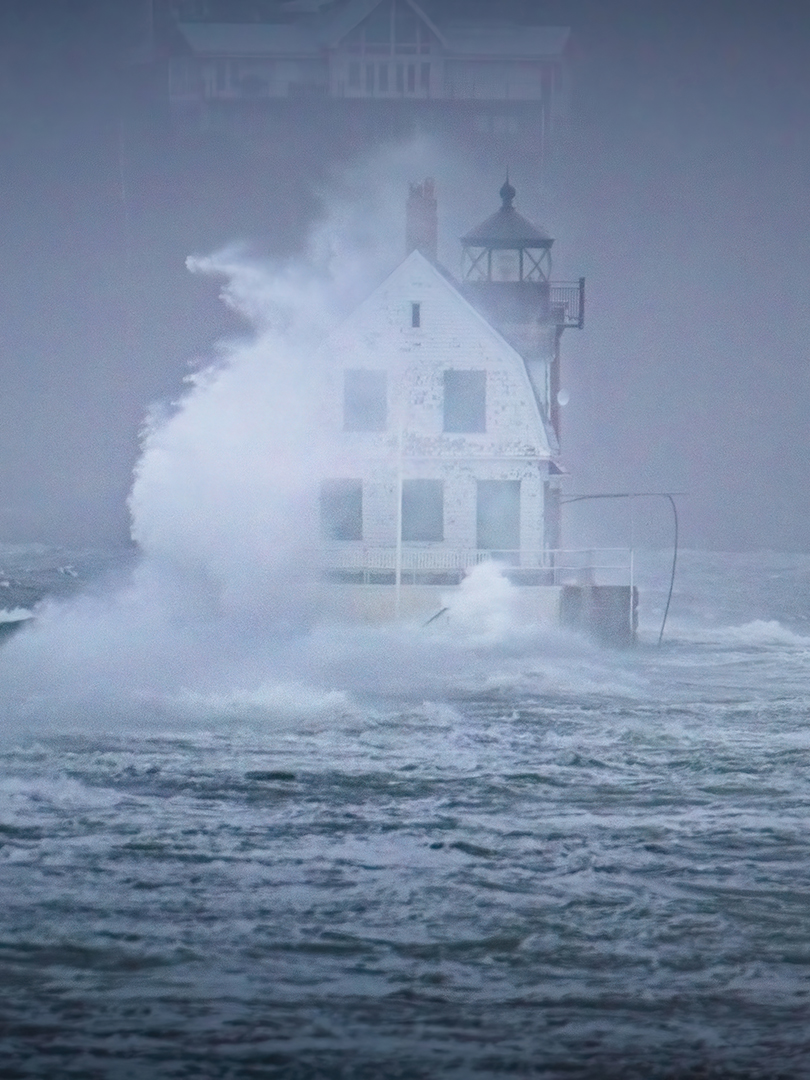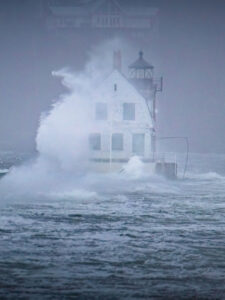 Capturing imagery was indeed quite a challenge, as my long telephoto lens was constantly buffeted by the wind, and wrecking havoc on my ability to capture sharp images. I quickly went to work on finding some sort of sheltered spot to photograph from, but the wind seemed to be inescapable. After some time fighting the wind, I concluded that lying down on the rocks was the only way to keep my gear steady. Thankfully this allowed me to be stable enough to capture sharp images, so I went back to shooting the awesome scene in front of me.
In the end, I was able to capture some great shots of the sea crashing against the lighthouse, but the image of a wave crashing as high as the lighthouse was my favorite. As I said, I was in awe of how powerfully these waves were hitting the lighthouse, and I'm not sure I have ever seen waves crash this high against the lighthouse. The sheer power was impressive.
As the high tide neared, the rain started to begin again and the southeast wind was blowing it right onto my lens making it hard to capture clear imagery. Knowing I had already photographed some awesome waves, I decided to pack up my gear and head onto another location that would hopefully be, just maybe, a bit protected from the wind driven rain.
If you wish to purchase a print of "Storm's Fury" by Dominic Trapani, check it out on our gallery here