New Book Gleams and Whispers Explores How Maine's Lighthouses Speak to Our Hearts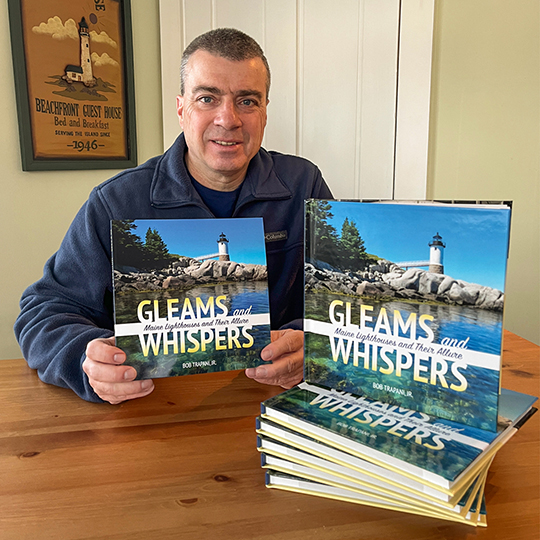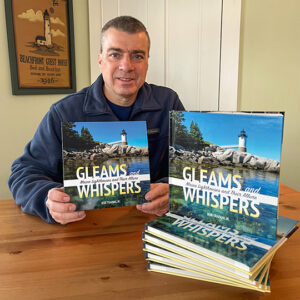 Camden – The mere presence of a lighthouse points to a higher, altruistic purpose – one that is embraced by notions such as romance, mystery, isolation, and heroism. Ask a hundred people what lighthouses mean to them, and it is very likely you will discover the meanings are as diverse as the people they touch.
In his sixth book – Gleams and Whispers: Maine's Lighthouses and Their Allure, author Bob Trapani, Jr. has blended reflective prose with thought-provoking imagery that inspires the reader to contemplate the many deeper meanings that embody these venerable guardians of the coast.
The full color, 156 page volume is sure to delight even the most casual of readers. Though lighthouses shine bright throughout the book, fascinating scenes of Fresnel lenses aglow, shimmering tide pools, storm seas, sunrises and sunsets "hold hands" with the lighthouses from beginning to end.
Gleams and Whispers: Maine's Lighthouses and Their Allure is about much more than the beauty and intrigue of lighthouses. The insights within its prose and photos share stories and ponderings from the heart that often times go unnoticed.
"Undertaking the quest to better understand lighthouses was one thing, but how to capture the scenes, emotions and the intangible aspects was altogether another question," says Bob Trapani, Jr. "Neither photos nor prose by themselves were going to suffice. It was evident that if I stood any chance of adequately sharing pieces of this lighthouse mystery with others, the two means of expression – photos and prose, needed to hold hands tightly. And thus, Gleans and Whispers came about."
Along his winding journey, Bob has sought any shred of evidence that could be gleaned in an effort to gain a deeper comprehension, including every sight, sound, feel and smell. He combed many ledges and lingered at innumerable nooks and crannies. He waded through thin waters, climbed over rockweed-covered ledges and admired mirrors of reflection that shimmered atop thin brine in tide pools.
During the winter months, Bob steeled himself against sub-zero temperatures when the air burns cold, stared straight into the face of galloping northeast gales, trudged through snow – sometimes drifts waist deep, and clamored about rocky surfaces encrusted in ice.
Each experience built upon the next as he delved into the transcendent meaning and symbolism of Maine's lighthouses. Such insights were collected at the crossroads of the heart where history and philosophy forever intersect.
Bob has a passion for writing and photography and works to blend these two pursuits in a fashion that endeavors to capture both the beauty and depth of meaning along the Maine coast. He has authored five other books, including Rockland Breakwater: A Journey through the Seasons. For 25 years, Bob has worked in the field of historic maritime preservation, presently serving as the Executive Director for the nonprofit American Lighthouse Foundation. Bob is also a U.S. Coast Guard Auxiliarist and has served as a lighthouse technician for 22 years assisting the USCG in maintaining the lights and fog horns at twenty-six lighthouses from Port Clyde, Maine, to the Canadian border. Bob resides in Camden with his wife Ann-Marie and three of their children.
Gleams and Whispers: Maine's Lighthouses and Their Allure is available for purchase through Moments in Maine by visiting shop.momentsinmaine.com or calling 207-691-8400.