Gleams of Tranquility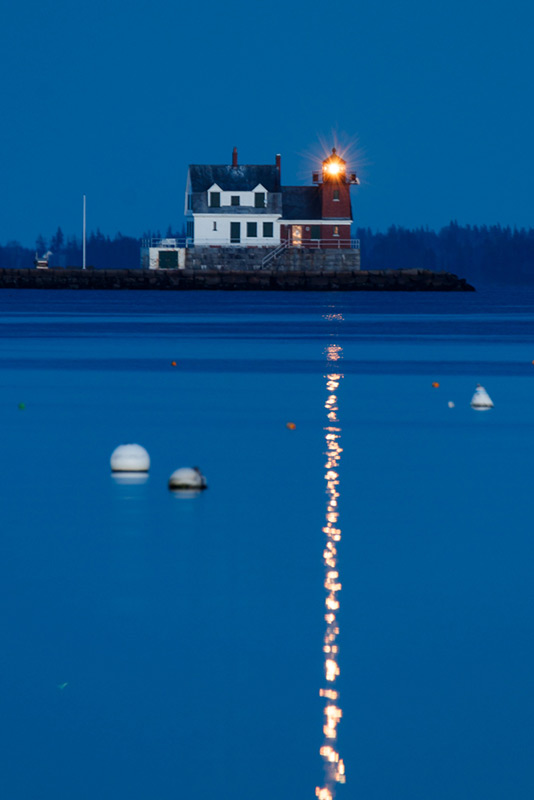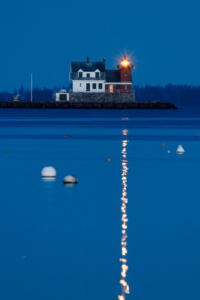 As I was driving through Rockland last evening, I cast an irresistible glance towards the harbor to see what beauty or happenings might be seen along the broad refuge. By this point, the blue hour of dusk was being ushered in over the calm harbor waters.
What caught my eye in a moment's notice was Rockland Breakwater Light's flashing beam reflecting upon tranquil waters. The sight of the beacon's cheery gleam riding atop the brine to shore was nothing short of enthralling.
Every five seconds, the guiding light flashed once more – effectively looping a most delightful scene over and over for extended admiration.
On this particular evening the gleam of the lighthouse may have been a soothing way to bid the day adieu, but I also knew that tomorrow's forecast promised to bring quite different weather. For a southerly gale was looming that would soon erase any notion of tranquility.
The transition in the making was a reminder why people love lighthouses. On any given day, these coastal sentinels can evoke notions of romance and charm, or in turn, stand strong against the fury of the storm as they send out their guiding gleams seaward. Long may they shine!