A Look Back at Irene along Midcoast Maine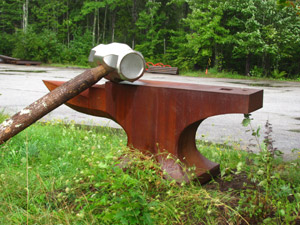 A little over a week has passed since Hurricane Irene swept up the Eastern Seaboard, wreaking havoc from the Outer Banks of North Carolina to Vermont. But this passage of time has done little to dull the storm's devastating toll exacted on many communities, which still weighs heavy on the lives of countless people – and will for quite some time.
By now everyone has seen a plethora of video and images showing the widespread damage along Irene's path – a massive hurricane that stretched nearly 300 miles out from its center.
Its far-reaching impacts included wind, surge and tornadoes, but the most frightening impact was the copious amounts of rain that the storm dropped, which ultimately caused terrible flooding, and subsequent destruction, in many regions.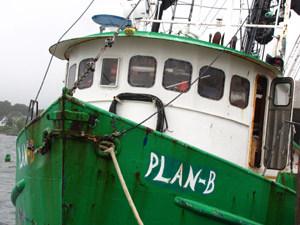 Like everyone else at the time who was in the crosshairs of Irene, residents along Midcoast Maine remained vigilant, watching for days leading up to the hurricane's landfall near Cape Lookout in North Carolina, to see if the storm would push north as projected.
As it turned out, Irene did indeed set her sights on nearly the entire Atlantic coast, taking an unprecedented track that would eventually impact 14 states and approximately 55 million people before pushing into Canada.
Though the hurricane would transition to a tropical storm by the time it reached Maine, no one was letting their guard down. Some weather forecasters continued to warn that Irene's impact – though weakening, could still be worse than any northeaster ever experienced along the Maine coast.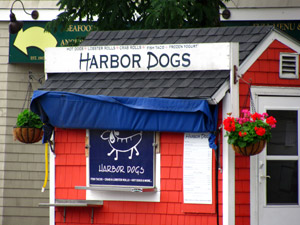 In the end, Irene tracked a bit more west than anticipated, and in the process, spared much of the Pine Tree State's coastline of the storm's fury.
Little in the way of rain fell, while Irene's wind gusts were relegated to the 40-50 knot range, all of which was a great relief to those along the Midcoast.
As Irene began moving into the coastal waters of Maine on August 28, 2011, I drove around to nearby harbors to observe the stormy theatre that might be playing out on the seascape. What I found were conditions surprisingly "tame" for a storm of this magnitude (thanks in part to the storm's more westward movement)…but along the way, I discovered one more thing that was wonderfully consistent throughout.
Evidence was everywhere that the Maine maritime community took Irene's tropical storm warnings seriously. Many a lobster boat and sailing vessel were pulled from the water in advance of the storm's arrival.
Such prudent preparations created quite an interesting sight along Maine's harbors at this time of year as boats, floats and other associated appendages were found suddenly taking up residence on dry land, packed in bunches wherever room would permit.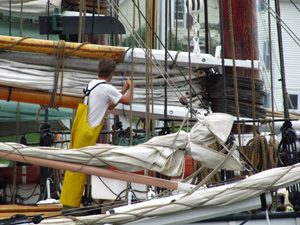 This in-season scene was as rare as it was telling. I recall admiring a number of these sights – not only for their uniqueness, but for the preparedness that many deployed to protect Maine's diverse connection to the sea.
Mainers are a hardy bunch whose mettle was not tested this time around by a storm like Irene, but as we all know, the fall season is fast approaching, and on its heels will be the dreaded northeaster.
Our time to "batten down the hatches" – an annual winter ritual by the sea, will no doubt come, but for now, our thoughts and prayers go out to all those people whose lives were adversely impacted by Hurricane Irene from North Carolina to Vermont.
God speed to all impacted communities embarking on the road to recovery. May fair winds and following seas come your way once again on the tide of better days ahead.
Snapshots of Midcoast Maine as Tropical Storm Irene passed over the region…